It Gets Even Better: Stories of Queer Possibility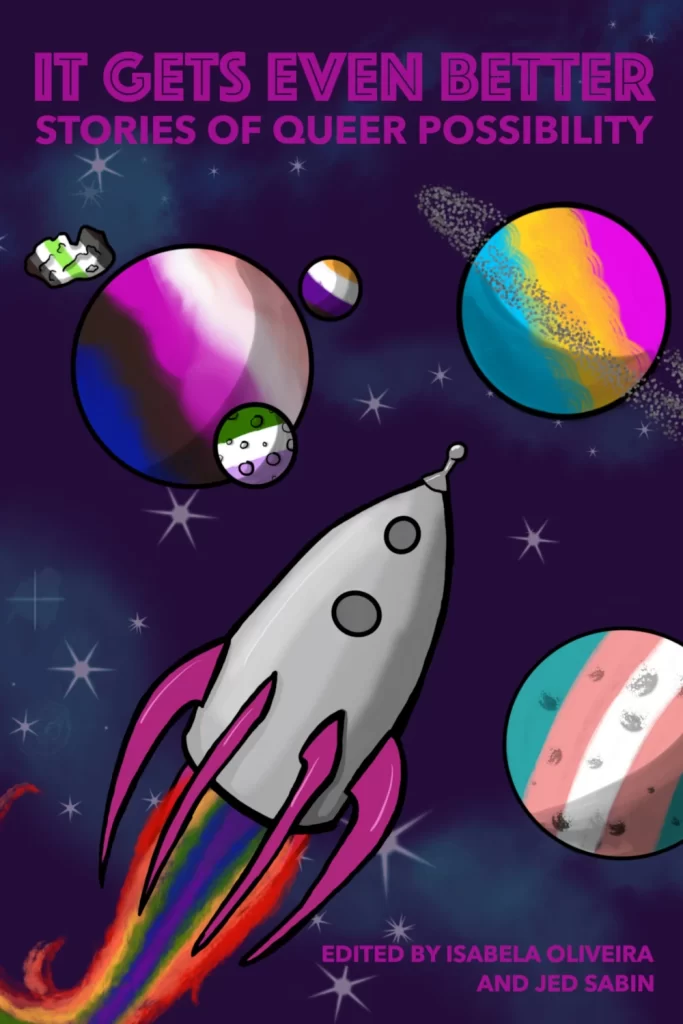 Buy it in paperback from Bookshop or your local bookstore
Buy the ebook from Kobo
These stories are about identity, relationships, and community. They're about hope, acceptance, affirmation, and joy. And most of all, in a time when uncertainty feels inescapable and overwhelming, they're about taking one another by the hand and choosing together to embrace the unknown.
The possibilities are endless.
This anthology is full of uplifting, affirming short stories about queer possibility by an outstanding lineup of speculative fiction authors including Charlie Jane Anders, Zen Cho, Amy Griswold, Nibedita Sen, Merc Fenn Wolfmoor, and S.L. Huang.
Full table of contents:

The Ghosts of Liberty Street by Phoebe Barton
Weave Us a Way by Nemma Wollenfang
Custom Options Available by Amy Griswold
The Invisible Bisexual by S.L. Huang
Frequently Asked Questions About the Portals
at Frank's Late-Night Starlite Drive-In by Kristen Koopman
The Perseverance of Angela's Past Life by Zen Cho
Sea Glass at Dawn by Leora Spitzer
unchartered territories by Swetha S.
Midnight Confetti by D.K. Marlowe
black is a flower by R.J. Mustafa
Sphexa, Start Dinosaur by Nibedita Sen
The Frequency of Compassion by Merc Fenn Wolfmoor
What Pucks Love by Sonni de Soto
Gold Medal, Scrap Metal by Lauren Ring
Half My Heart by Rafi Kleiman
Venti Mochaccino, No Whip, Double Shot of Magic by Aimee Ogden
since we're here tonight by Xu Ran
I'll Have You Know by Charlie Jane Anders
The Cafe Under the Hill by Ziggy Schutz
(don't you) love a singer by TS Porter
The After Party by Ben Francisco
The Mountain Will Move If You Ask by Jaxton Kimble

ISBN: 978-1-7366182-0-2